There are four major traditions at Bryn Mawr: Parade Night, Lantern Night, Hell Week and May Day. The first three traditions are about welcoming the incoming class and making them feel at home. However, May Day is special;  this tradition celebrates the seniors… it all comes around.
I was eating lunch in the dining hall today (mac and cheese, pizza and a cheese quesadilla… SO MUCH BREAD AND CHEESE) and I noticed this table tent: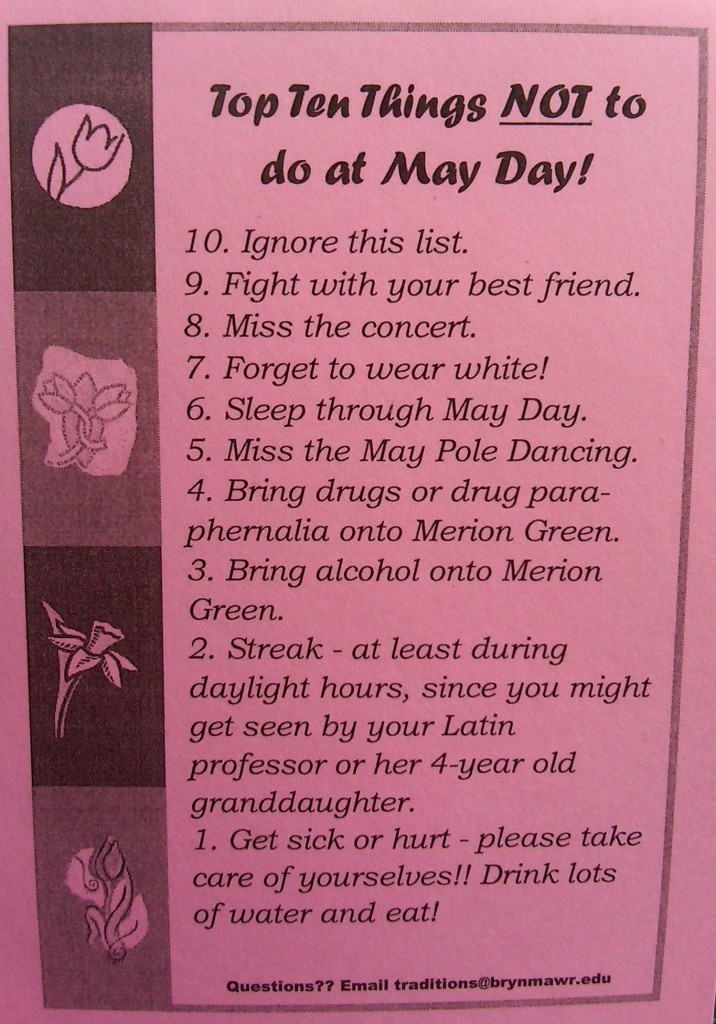 This table tent inspired me to share with you the top 10 things you should definitely do on&before May Day!
10. Hydrate! My sophomore year, it was incredibly warm, I didn't drink enough water and I fainted (true story).
9. Tell the Traditions Mistresses how much fun you are having! Organizing such a large event is hard work; and everyone loves to feel appreciated!
8. Make sure you wear white. But, do NOT stress about finding the perfect white dress. You have four years; stressing about a dress right before finals week is silly.
7. Take photos! Over 1300 students and hundreds of faculty, staff and families are on campus wearing white = perfect photo opportunity.
6. Get into the theme and take advantage of all the awesome events! You definitely do not need to do EVERYTHING (that's exhausting), but try to go to a bit of everything!
5. Definitely wake up early for breakfast. Strawberries and Cream at 8am. COME ON?!
4. Make a May Day Tiara the Saturday before May Day. I love making my tiara only with baby's breath
3. Watch the Parade, participate in the Maypole dancing, DANCE THE MAY HOLE and cheer for the Seniors as they race down Senior Row.
2. GO to the last Step Sing of the year. Sing Goodnight to the Seniors and laugh at them cry (with love).
1. This is a day of celebration. Don't do any homework on May Day. You deserve it!