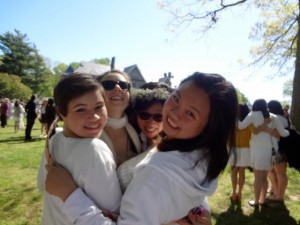 Yesterday was both the greatest and most terrifying day for me at Bryn Mawr.
First, my plans for May Day were a total flop. Although I had strawberries  and mimosas for breakfast (May Day tradition for Seniors), marched in the parade, 'raced' down senior row (who won?), grabbed one end of the May Hole parachute (thereby breaking the bonds of patriarchy), jumped in the bounce house with a group of faculty/staff's kids and took polaroid pictures with the famous Philadelphians (why did Edgar Allan Poe look like Dracula?)… all before noon, I could not make it over to Sunken Garden for the St. George and the Dragon Play or Taft garden for the Ye Old Robin Hood Play or Carpenter Beach for the last A Capella concert!
By 3pm I was ready for a nap… which I did have after eating two plates at dinner (bravo BMC dining services!! I almost  fell asleep on Erdman Green because I was so full from the delicious food- Thank you!)
Basically, yesterday was perfect. 2016, be excited for Bryn Mawr's epic traditions and thankful to all of the fantastic students and staff that help make it happen!
Now for the terrifying part, I finally understand how the class of 2011 felt during their last May Day's Step Sings. (For those who aren't too familiar, a "step sing" is one of Bryn Mawr's mini traditions. The student body comes together, classes engage in playful rivalry and we sing. I know it does not make a lot of sense… actually, a lot of May Day does not make sense to 'outsiders' of Bryn Mawr. In fact, yesterday, I realized how unique and beautiful Bryn Mawr is.  Our traditions are only possible because we have a very close-knit community, an honor code and a deep adherence to the spirit of self governance.)
The end of May Day is the beginning of the senior class' farewell (It was freaky. Everyone kept wishing me "good luck" eeek!!).  Then when I saw the class of 2013 'rush' the senior steps the first thing I said was, "this is horrifying". It finally hit me: I am leaving Bryn Mawr… I mean, it is definitely time for me to say goodbye, I have learned so much here and I am  very excited for my new job (blog post coming soon), but at the same time, I am leaving a place that I call home. It also does not help that I generally do not like saying goodbye… Yesterday was terrifying.
A special message to the class of 2013: Senior year goes by so quickly. It seems like just last week that I rushed the senior steps. Start your thesis early, go into Philadelphia, watch more movies at the BMFI, go to all of the culture shows and Performing Art Series events, go to office hours to just hang out with professors/staff and attend the Fall and Spring Plenary…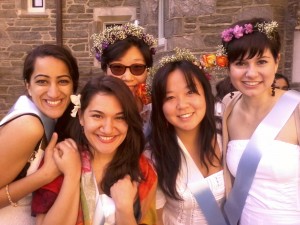 There are still two weeks left until graduation (thankfully!). This means I will have more time to reflect on my Bryn Mawr experience and share them with you! I promise more blog posts will be coming soon!
Also, these are so spot on: Whatshouldbmccallme